The 39th Annual Echo Park Lotus Festival offered to its attendees the expected experience of rows of food and craft booths, numerous bands and performers and dragon boat races across Echo Park Lake. However, one usual element was missing this year: the festival's namesake lotus.
While the lake is usually found with a plethora of lovely pink lotus blossoms by July, this year provided a dormant lotus bed with only a few plants appearing on the edges. The lack of plant life has become so extreme that a crew of workers was spotted late last month planting small lotus plants into the empty part of the bed and surrounding the aquatic plants with some fencing. According to the Department of Recreation and Parks, the department's maintenance staff offered numerous reasons why most of the lotus plants are no-shows this year. These include water conditions such as turbidity, temperature, pH, as well as lack of soil nutrients, cool weather, birds uprooting/eating plants, fish and other aquatic species disturbing sediment and roots.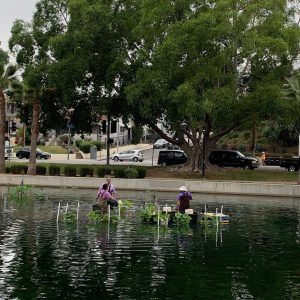 It's not the first time the lotus have either died off or had a hard time growing after going dormant over the winter.  Aquatic experts and parks staff have never been able to figure out the problem, but state that the lotus might need more natural nutrients.
Echo Park Lotus Festival boasted dragon boat racers by day and illuminated water lanterns by night. In a weekend celebrating the people and cultures of Asia and the Pacific Islands, dishes from countries such as Thailand and Japan were tried while cultural performances, origami classes, rock walls and jumpers were enjoyed.
Echo Park Lotus Festival
https://www.laparks.org/lotusfestival