In a May 4 article L.A. Weekly profiled the revival of our neighbor, Mack Sennett Studios and its CEO, Silver Lake resident Jesse Rogg.
Located right outside our Silverlandia office, the street outside the studios is often bustling with film crews, catering and the occasional party crowd.  Last weekend in front of Mack Sennett, the Echo Park Arts and Crafts took place over Mother's Day, closing down much of the street in front of the studio.  It's such a unique event, the New York Times even picked up a story on it.  
The parking here at the Silverlandia office on Sunset turns into valet service after five on each weekday, and many of us who work here have to turn to the street behind us lest we get towed.  It often becomes a major mission to find a spot, as film trucks and other shooting essentials often line the block on Effie Street.
According to the LA Weekly article (our office is actually in the background of the shot with the CEO on the roof), much of the revival is attributed to Mr. Rogg, the head of the studio.  Other highlights of the piece are fun facts about the street-block-long sound stage's long 100-year history dating back to silent films with Charlie Chaplin through Michael Jackson and No Doubt music videos on the site.
After a down cycle in between tenants, the studio now serves many functions– photo and tv shoots, private parties, live shows, post-production and a music school.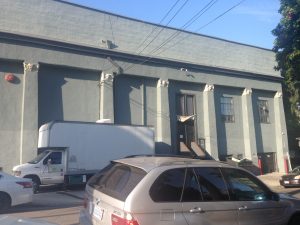 Follow the studio's Facebook page to find out when there are parties or events you may be able to attend.