If you're in the Los Feliz neighborhood in Los Angeles, make sure that you get to the Skylight Theater. If you want to see some of the hottest new shows from playwrights you'll eventually be hearing a lot of, this is your destination!
It's not Radio City Music Hall, but the Rockettes, good as they may be, are just not your thing. Also, for you, it's not the size of the theatre that counts or a who's going to be there that matters. It's what is playing, and if it's a playwright that's written anything like the last show you saw, that's the ticket.
The Skylight can be found at 1816 N. Vermont Ave. It's an intimate venue designed specifically for emerging playwrights to highlight their work and one of the great events that's held there is something called "Beyond Conversation." This has become a destination event for people who want more from an evening out at the theater.
The audience has the chance to get into a conversation with the actors and panelists, discussing themes from the current production. As usual, with the kinds of plays that are produced, there are all sorts of interesting and exciting themes to get stuck into.
The new season launches at Skylight and promises to be packed full of intrigue, excitement, and controversy – just the thing that makes for a great evening out at the theater.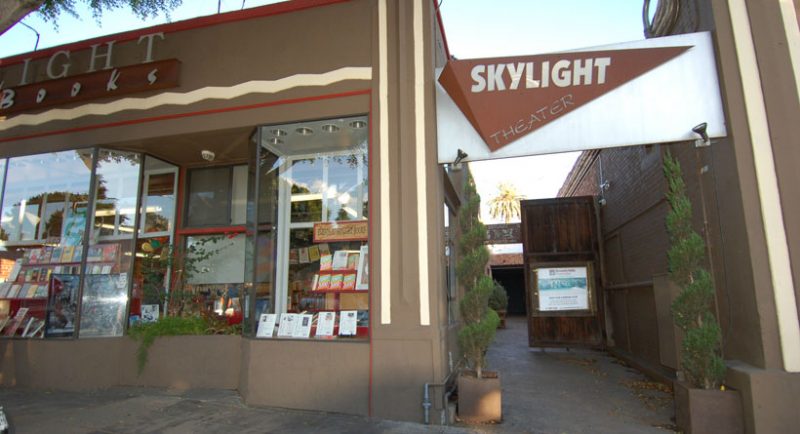 New Skylight Theater Season
"America Adjacent" – It's the story of six pregnant Filipino women who risk everything to chase after the American dream. The play is directed by Jon Lawrence Rivera and is written by Boni B. Alvarez. Confined to a one-bedroom unit in Hollywood, the women do their best to overcome fears of jail and deportation so their children can have a better life. Playing Feb 9 – March 24. World premiere.
"Chickenheads" – Play reading. Written by Ruth Fowler. Directed by Shaina Rosenthal. It's just another day of shooting porn in the Valley – except it's not. Everything goes wrong. Ada, a porn veteran, finds out her male co-star tested positive for an STD, so a replacement must be found. When he shows up, things start to unravel. February 25.
"The Unhinged" – Play reading. Written by Tony Abatemarco. On a remote lighthouse island off the coast of Cape Cod, the menopausal daughter of an abusive ghost attempts to undo her childhood trauma by placing an ad for a live-in helpmate. 'Help wanted,' though, has never proved this wanton…
"Rotterdam" – a 2019 Center Theater Group Block Party Production – Kirk Douglas Theatre. Written by Jon Brittain. Directed by Michael A. Shepperd. It's New Year's in Rotterdam 2018. Alice has finally found the courage to come out to her parents as a lesbian. But before she gets the chance her girlfriend Fiona reveals that she has always identified as a man and wants to live as one, sending their relationship into a tailspin. Playing March 28 – April 7.
Coming Spring 2019 to the Skylight Theater – "Bronco Billy," a brand-new musical written by Dennis Hackin. Music and lyrics by Dale Rosenbloom and John Torres. Additional lyrics by Michele Brourman. Playing May 11 – July 7. World premiere.