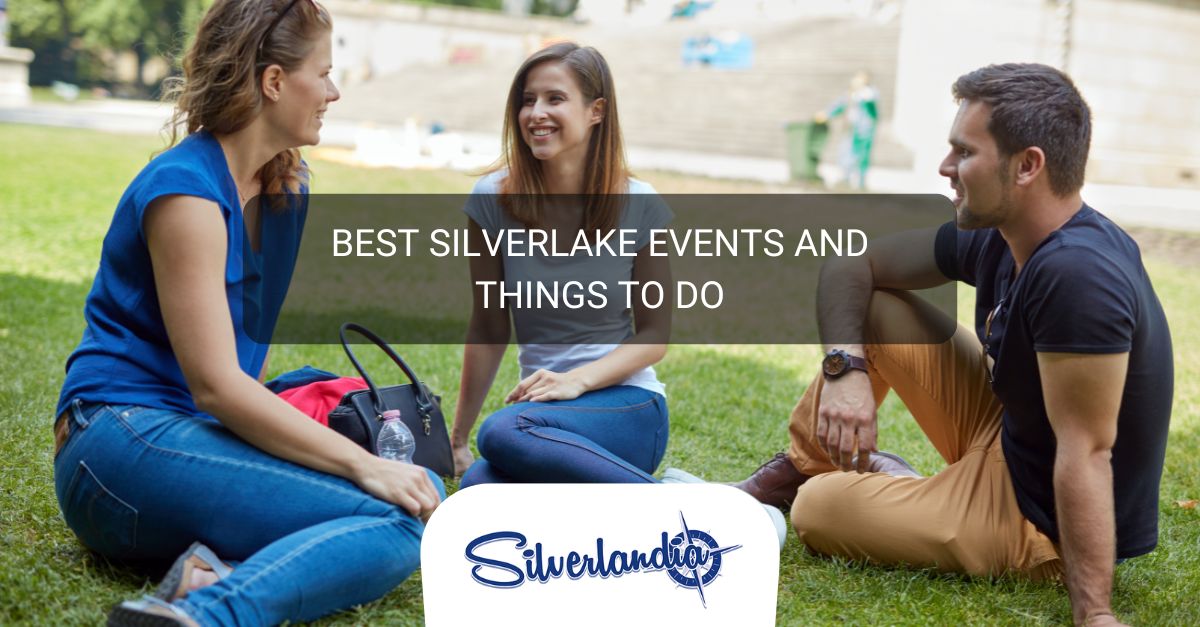 Does it seem like there's so much to do and see in Silverlake that you're going to miss something fun? Have you ever looked up "things to do in Silverlake" online and just felt overwhelmed by everything that's on there? If so, you aren't alone. It's easy to get real "paralysis by analysis" when it comes to finding the most fun Silverlake events and things to do. That's one of the main reasons we started Silverlandia: to make it easier for people to find the best experiences in the area. 
Many of us on staff have lived in Silverlake for our entire lives whereas others have been here for a decade or more. In that time, we've tried so many incredible restaurants, experienced so many great shows, and so forth. Below are some of the "things you can do" which are a bit more timeless, and will almost invariably be around at all times. You can thank us later. 
Hangout at the Silverlake Reservoir 
There are plenty of parks in and around the Silverlake area. However, there's nothing quite like the Silverlake Reservoir. With this, you won't be going down into the water exactly, but you'll be going around a man-made public perimeter. "Man-made public perimeter" makes it sound far more technical and sterile than it is: it's a fun, welcoming park. Moreover, it's one of the best park areas you'll find not just in Silverlandia but in all of LA. 
That "public perimeter" is actually much bigger than many think. To wit, it's a 22-mile trail. That makes it perfect for a good, solid run, whether you're just looking to burn some calories or you're looking to get ready for a 5K or longer. Moreover, that also makes for a great walk, too. This is the perfect place to clear your head, to get away for a while, or to go for a walk with someone you haven't seen in a while and really, really have enough time to truly catch up. 
The reservoir itself has a great grassland, too. This grassland itself serves as a kind of park. Here, you'll find folks picnicking, or just lounging and taking in the sun. You can play catch, frisbee, and the like here, too. Now, the one drawback to this particular part of the reservoir is that you can't bring your furry friend here. 
But, you can bring your furry friend to one of the two dog parks within the area. There's also a basketball court as well as a playground, too. The reservoir has a deep, deep well of fun things to do. 
Sunset Junction Stroll 
As mentioned, many of us have been in Silverlake for several years. That means we've shopped at some great stores, and it also means that we've seen plenty of stores come and go for various reasons. One thing we can tell you about shopping: for some time now, Sunset Junction has been where it's at vintage and trendy, this might be the best fashion district in all of the Silverlandia area. 
You can find some high-end stores, of course, with the best clothes from around the world. That said, you can also find some wonderful thrift shops, too, with some of the best pieces from closets around the neighborhood. All can look great here. 
On top of that, you don't have to spend all of your time just shopping, either. There are so many fantastic restaurants in this area, too. You can come for brunch and then go shopping. Or, you can go shopping, work up an appetite, and then have a lovely dinner. Treehaus, Eszett, and The Thirsty Crow are some of the highlights as of this writing. By the time you shop and dine there, there may be many more. 
Silverlake Farmers Market: Farm to Table to Yum 
Many places in and around Southern California have Farmer's Markets. Few, however, have them quite like this. For one, one farmer's market is not enough in the Silverlake area – it has to be twice a week. Moreover, this brings in some of the best farmer's foods from throughout the region. 
Every Tuesday afternoon and Saturday morning, the Silverlake Farmers Market sets up shop in the "Sunset Triangle," just a bit east of the Sunset Junction. Here, you'll find just about all of the farm fresh foods that your kitchen could use: produce stands with the best produce, genuinely fresh farm eggs, everything from fresh-baked bread to corn, to goat cheese, and more. This farmer's market has been running for a long time, and that commitment to quality shines through. 
While the market is "just east" of the fashion district, there's also plenty of fashion here, too. Vintage clothes racks can be found throughout the market, as can jewelry and other accouterments that were not grown on a farm. As this is Silverlake, you can find plenty of crystals, books, records, and other items to improve your mood more so than your diet. 
Of course, you don't have to wait to eat if you come to this farmer's market. There are also plenty of fresh, ready-to-eat-right-now food stands, too. 
Silverlake Stairs Hike 
So much of what makes Silverlake Silverlake is the people who live and work here. Many of them have done so much to express themselves to and with this community in ways that make Silverlake even better. 
A great example of this: is the Silverlake Stairs. A public-use stairway, they're part of a 6.7-mile hike. While there are so many great views along that hike, perhaps the most dramatic is the 14 different painted stairs, each with a different kind of artistry. 
Outdoor Movie 
On certain Friday nights of the year, you'll be able to enjoy a movie outdoors with family and friends (or new friends). In the same area as the Farmer's Market, you can watch a good movie with the community. The lineup is scheduled to change (and the weather certainly takes a hand) but this is a fine way to spend a Friday night out in Silverlandia. 
The Best Live Shows 
There's so much great live entertainment throughout the Silverlake area there's no way to include it all. Some of our staff favorites include seeing concerts in the Silverlake Lounge. While the bar may be fun-sized, it includes both local as well as international touring acts. You can see some performers here before they're famous as well as those who are already on their way. 
At the El Cid, you'll be able to take in great flamenco dinner shows on weekends, Friday through Sunday. These shows have been a mainstay for a long time. Whether you're already in love with flamenco or this is your first, this is a great way to spend an evening. 
After (or maybe before) all of that, you may want to relax. One of the best ways to do so: Raven Spa. There, you'll find a great Thai massage that can help you to relax and be ready for what's next. 
Make Silverlake (and Silverlandia) Yours 
Those are some of our favorites here. It was hard to narrow it down to just these. Feel like we missed something? Let us know! Or, alternatively, if you have something you'd like us to check out, we'd be more than happy to check it out! We're always looking for ways to make Silverlandia more responsive to the community, to be able to raise up this wonderful place where we work and live. You can contact us through this site. Have fun in Silverlake!