Whether you're looking to transform your hairstyle or getting a simple trim, finding the right place for the best haircuts can be extremely important. The wrong stylist, an uncomfortable salon, and many other factors can lead to a negative experience. However, Neighborhood Salon is offering a unique concept to getting a haircut.
Located Echo Park, you'll find Neighborhood Salon. This business offers many hair services which include blowouts, cut, color, hair extensions, hairstyling and perms. Just as its name suggests, the salon is a safe and comfortable space where you can feel right at home. Before opening, the owner, Ava Shire, envisioned Neighborhood Salon to be a place where vibrancy and creativity shines. Her main goal was to ensure that clients could embrace the positive energy that Neighborhood Salon embodies when they arrive, so she came up with the idea of cutting hair in both indoor and outdoor spaces.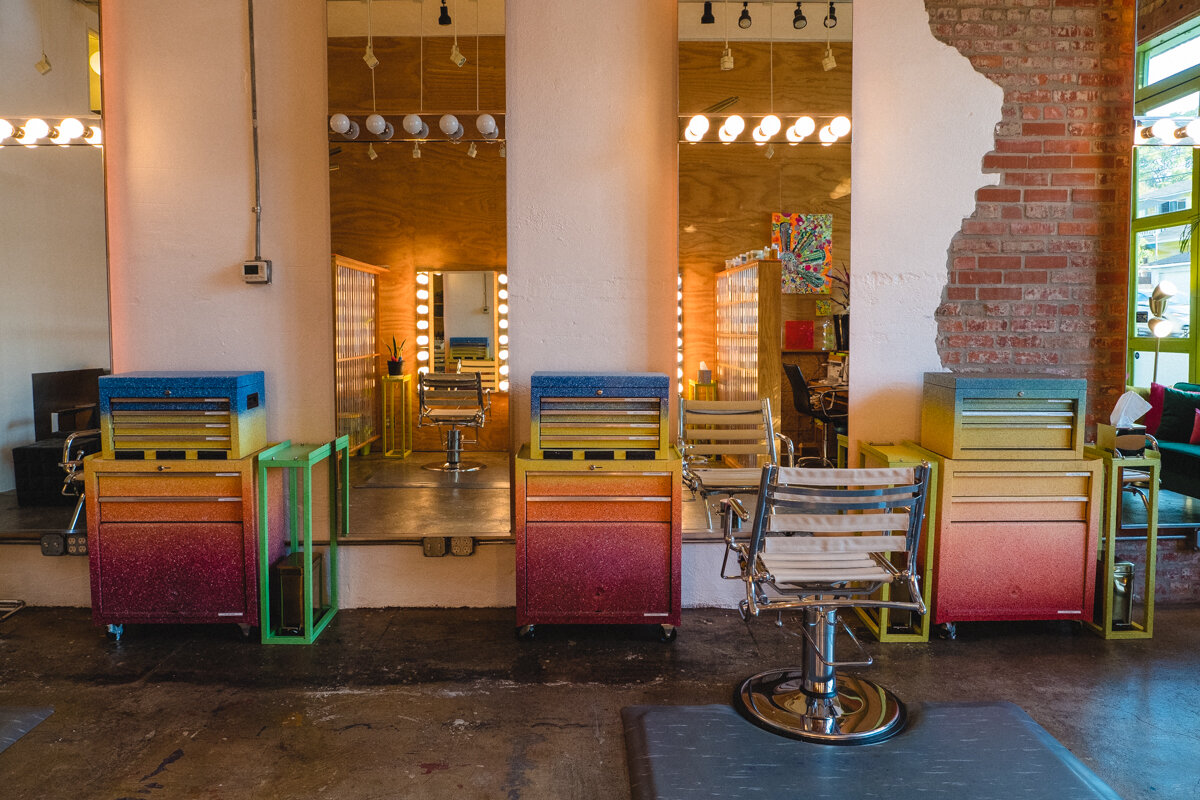 What Makes Neighborhood Salon Special?
As an environmentally conscious business, Neighborhood Salon is the only Certified Sustainable salon in East L.A. Through the Green Circle Eco program, the establishment collects and ships all its beauty waste to develop new products or create clean energy. Salon beauty waste can include hair trimmings, paper, plastic, foil, color tubes, and much more. Because of their commitment to maintaining a green initiative, Neighborhood Salon is able to do good for their business, clients, and the planet.
These efforts do not go unnoticed; Neighborhood Salon currently has a 5-star rating on Yelp. Repeat customers as well as new guests have given only positive reviews about their experience. Having been open for over a decade, this clearly shows how the business consistently delivers in giving the best haircuts in Echo Park.
A Unique Indoor/Outdoor Concept
The interior of Neighborhood Salon is lively, showing the personality of the salon through colorful chairs, innovative artwork, and large couches to lounge on. The outside space includes multiple garden stations where clients can enjoy the fresh air while having their hair styled. Although this might sound less than ideal to some, Neighborhood Salon has taken the rights steps to make sure that you get the best experience. The outdoor space is in the shade so you're able to sit back and relax, even on a sunny day in L.A. Moreover, you'll be surrounded by beautiful plants. What's not to love about this salon?
Although getting a haircut outdoors seems unconventional in today's age, it has now become more relevant with COVID-19 restrictions. Neighborhood Salon opened in 2010, but the outdoor garden stations were not built until April 2020. This concept has allowed the salon to thrive even during the pandemic. Neighborhood Salon is currently offering its indoor and outdoor services by appointment only. On their website, clients will be able to find additional information about the salon and its response to the pandemic. Visit their website to book an appointment for the best haircut in Echo Park today.