The Hollywood-based celebrity fashion designer earns high marks for recent work collaborating with a who's who list of stars.
LOS ANGELES, June 1, 2018 (Newswire.com) – Major pop culture publications have marveled at numerous new celebrity fashion pieces by Daniel Sheehan of Sheehan & Co. Most notably, Sheehan's bespoke outfits were sported by Kelly Clarkson on the fourteenth season of The Voice. Clarkson, who headed and coached her team of singing contestants on the show, received an influx of positive remarks about her Sheehan-designed Team Clarkson leather football jersey lined with glistening gold numbers. Clarkson's team was victorious, and member Brynn Cartelli, 15, became the youngest winner in the show's history.
Sheehan has previously crafted custom items for Clarkson. In addition to the wildly-popular black and gold jersey, she wore the elegant and finely-crafted yellow dress from Sheehan in her 'Love So Soft' music video. In the video, the dress is given a magical effect, spawning thousands of yellow birds from her skirt as Clarkson walks through a majestic white field in a valley. In the behind the scenes feature of the music video, Clarkson calls it "The coolest video I've ever been a part of."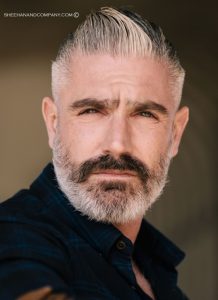 Sheehan's work encompasses highly-customized outfits for the most diverse cross-section of Hollywood pop culture. Although most of his work cited in the press is tied to celebrities, Sheehan also has his own line of custom-made clothing based out of his Hollywood shop located off Melrose Avenue.
"I can make anything in the world – whether it'll be for men's, women's, or children's. Whether it's vintage, bespoke, or contemporary trends, we like to make clothing the old-fashioned way," said Sheehan.
Scott Hoying and Mitch Grassi of Pentatonix, who formed the musical duo Superfruit, also worked with Sheehan in a recent music video. In Superfruit's video, Worth It (Perfect), the young dancer performs in a dress specially-fitted and made by Sheehan. The 2017 video has been described as "groundbreaking" in nature because of its challenge to gender norms.
"Proud to make it for my friends Scott Hoying and Mitch Grassi, who broke gender barriers. I was honored to make the dress for the little boy in this video. It was perhaps one of my proudest projects. It embodies the spirit of inclusiveness that I stand for," said Sheehan.
Another notable project for Sheehan came in creating custom wedding suits for Dancing With The Stars winner Louis van Amstel and his partner Joshua Lancaster. The "Butch Cassidy and the Sundance Kid"-themed wedding in Utah was covered extensively by US Magazine, People Magazine, and Entertainment Tonight, among others. Also, both Frank Grillo and Director Joe Carnahan put on  Sheehan's signature henleys for the shooting for their newest action movie, "Boss Level" – which is slated for a 2019 release.
Although his collaborations are increasingly sought after in celebrity circles, Sheehan and his team are very selective with the type of clientele they take up projects with. According to Sheehan, he seeks to work mainly with unique projects that are of the most highly-creative in nature.
For more information on Daniel Sheehan's body of work, or to make a press inquiry, please call (323) 522-3992.
Source: Sheehan and Co.