An architectural treasure in Silver Lake with a big national shout out and artistic style– that's right, we're talking about the Richard Neutra-designed VDL Studio and Residences, A.K.A. the Neutra VDL House.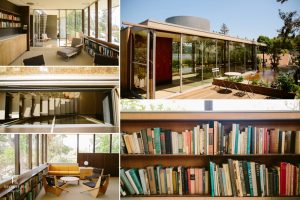 The former home and workspace of the famed architect was one of 24 landmarks across the country recognized as a National Historic Landmark. Built in 1932, the structure, located across from the Silver Lake Reservoir and Meadow, was Neutra's family home and studio for nearly three decades. Though the house was damaged by a 1963 fire, but Neutra and his son, Dion, rebuilt the house, and the elder Neutra lived there until his death in 1970. The Neutra house was gifted to Cal Poly Pomona in 1980 by Neutra's widow, Dione. In 2009, it was added to the National Register of Historic Places. This latest designation as a National Historic Landmark is intended to go an extra step, to help sites get "technical assistance, recognition and funding to help preserve our nation's shared history and create close-to-home recreation opportunities".
If you're interested in architecture, make sure to stop by the Neutra VDL House on Saturdays from 11 a.m. to 3 p.m. when it is open to the public for tours. Originally built by renowned architect Richard Neutra as his own residence, this marvel of mid-century modern architecture owned by Cal Poly Pomona College, is accessible to the public. It's located right across the street from the Silver Lake Meadow if you want to time your visit with a stroll around the reservoirs.
Neutra VDL Research House
https://www.neutra-vdl.org/
2300 Silver Lake Blvd., Los Angeles, CA