Yoga studio in Silver Lake ;
Finding a yoga studio in Silver Lake might be easy to do, but finding the right one can be difficult.  One Down Dog is taking a different approach when delivering their services. They understand not every customer wants the same service, which is why they offer a wide selection of classes to choose from. If you're anything like me, $5 classes are always a good start for beginners. They include 30 days for $40 and also have a student special available. If that does not sound like a deal, they are also enlisted on Groupon.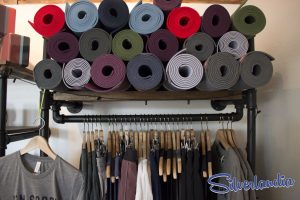 The amount of classes they have available at this Yoga studioin Silver Lake are insane! Insanely good of course. Some of the classes they have to offer are, chill—which focuses on moving and breathing, core—abs workout, butt—your booty, buti— a Shakti awakening, the list goes on! They offer workshops throughout the year, but one in particular that I found interesting was, "From the Mat to the Glass." This consist of yoga and wine. Yes, you read that correctly, Wine! What better way to relax than with some good stretches and some wine tasting.
They believe yoga should be fun, so they make sure to add lots of music and dancing. You are bound to have a good time and release all your stress on the mat. Additionally, they add all their schedules, enrollments and more, to their mobile app—how convenient is that? Check out any of their two locations in Silver Lake and Eagle Rock. You are guaranteed to release some stress and rest assured a fun work out. They are One Down Dog!