Get your Purrfect flow on with the Sante D'or Foundation and their Yoga with Cats classes this summer! With two sessions each week offered throughout the summer, their classes are aimed to help you relax and meditate alongside the best stretchers in the game.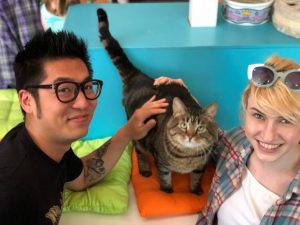 The Sante D'or foundation is a volunteer-run animal adoption center for cats in Atwater Village. The mission of Santé D'Or Foundation is to "rescue and provide shelter and holistically-based medical care to animals, while attempting to secure them permanent homes". To get the community more involved, they've started to offer 'yoga with cats' classes. All they ask is that each attendee of the yoga class donates $20 to fund their endeavors to stay a resource in their community through their rescue and adoption services and community outreach efforts.
If you fall in love with one of the cats while you're in class, you can easily fill out an application and adopt! The Sante D'or Foundation works to help visitors find the best fit for your home and lifestyle, and are available for consultation throughout the transition. Their adoption center is friendly, welcoming, and open to the public. The rescued animals are free to roam and play all day, and that's just exactly what they do.
Come join the Sante D'or Foundation for a silly, relaxing, and invigorating hour session of yoga practice, and their special furry feline yogis will help show you the best ways to stretch and meditate.
Tuesday Sessions: 7pm
July 16
September 17
November 19
Sunday Sessions: 7.30pm
August 18
October 20
December 15
Limited spaces available for each session so sign up in advance with text: (323)-898-8889 or email: info.santedor@gmail.com!