To start off the Holiday season on a jolly note, come out to celebrate the 10 year anniversary of Echo Park's Craft Fair . This amazing event will be held within our Silverlandia community at Mack Sennett Studios. The 3-day art and design event will have over 150 artist  and 1000+ guests. Over the years, the fair has kept it's purpose alongside Makers Movement- to keep it's lively space for unity, positivity, and support.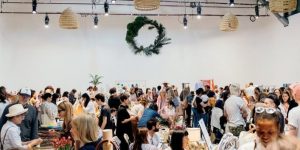 Today, December 6th, from 6-9pm, they will be hosting a preview of what the weekend holds. Hors d'oeuvres and a cocktail will be served at open bar while you enjoy shopping. Along with that, a portion of the proceeds will benefit; Inner City Arts, an oasis of creativity, learning and achievement for children and teen, located on LA's Skid Row. This party only will feature artist.
Saturday and Sunday will be the main fair days, from 10am-6pm at Mack Sennett Studios, on Effie street, and the Silverlake Independent Jewish Community Center. Rain or Shine but it's guaranteed that you will enjoy yourself around the vibrant people of our Silverlandia neighbors. These events will feature various foods, unique artist, and much more for you to come and enjoy.
Tickets at echoparkcraftfair.com and at the door.
Children under 13 are free.
Mack Sennett Studios | 1215 Bates Ave | Los Angeles, Ca