Join Cece Valencia and Romeo Mastin from 93.5 KDay along side of KWHY-TV for a special toy drive in El Centro Del Pueblo. This event taking place in our Silverlandia area (more specifically, Echo Park) is to give back to the community and those families who can't afford gifts this December. Along with that, there will be food, prize drawings, arts & crafts for those who stay around for the event. Elsy Guevara, owner of OOTD Fash, will also be there as special guest and to be another pair of hands to help with the event in our beloved Silverlandia.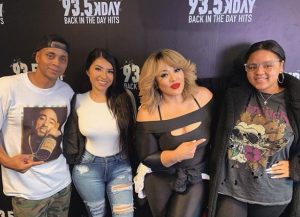 To help out, you can simply drop off an unwrapped toy on Saturday, December 7th, from 10am-2pm. If you want to join the laughs and fun, the entrance is completely free as long as a gift is taken. Our Silverlandia people are always so helpful and giving so stop by to give back to the community that we love dearly.
Also a reminder: "The richest people in the world are those who give more than they take. Giving fills your life with things money can't buy.". So even the smallest toy you get, will bring happiness to a child and to you, knowing you have made someone's holidays better. Come spend sometime at El Centro del Pueblo with beautiful people.
El Centro del Pueblo
1157 Lemoyne St, Los Angeles, CA 90026
Toy Drive Event: Saturday, December 7th, from 10am-2pm.
For more information call (213) 483-6335.