For over a hundred years, the Los Angeles Grand Central Market has been one of the city's major culinary destinations. Featuring dozens of different restaurants and vendors, the cramped market wasn't exactly a pandemic-friendly destination. However, now more than ever it will be time to revisit this timeless classic and enjoy some of its many offerings.
The Food
Grand Central Market has dishes representing communities across California, and cultures from all over the world. Where else could you find a Latin grocery, a full-service butcher shop, authentic Berlin currywurst, traditional Japanese bento boxes, Salvadoran dishes, novelty Mexican snacks, and barbeque prepared central Texas-style all in one place? Whenever you're in LA make sure you stop by to take the gastronomic tour that only Grand Central Market offers.
The Fun
Stand-up comedy, live music, a city-wide scavenger hunt, and matinee screenings are only a few of the events you can look forward to for what remains of July and part of August. There are tons of venue spaces located throughout the building for all kinds of events. If you need a space for an upcoming event, consider the GCM…after you've tried the food and caught a live show, of course.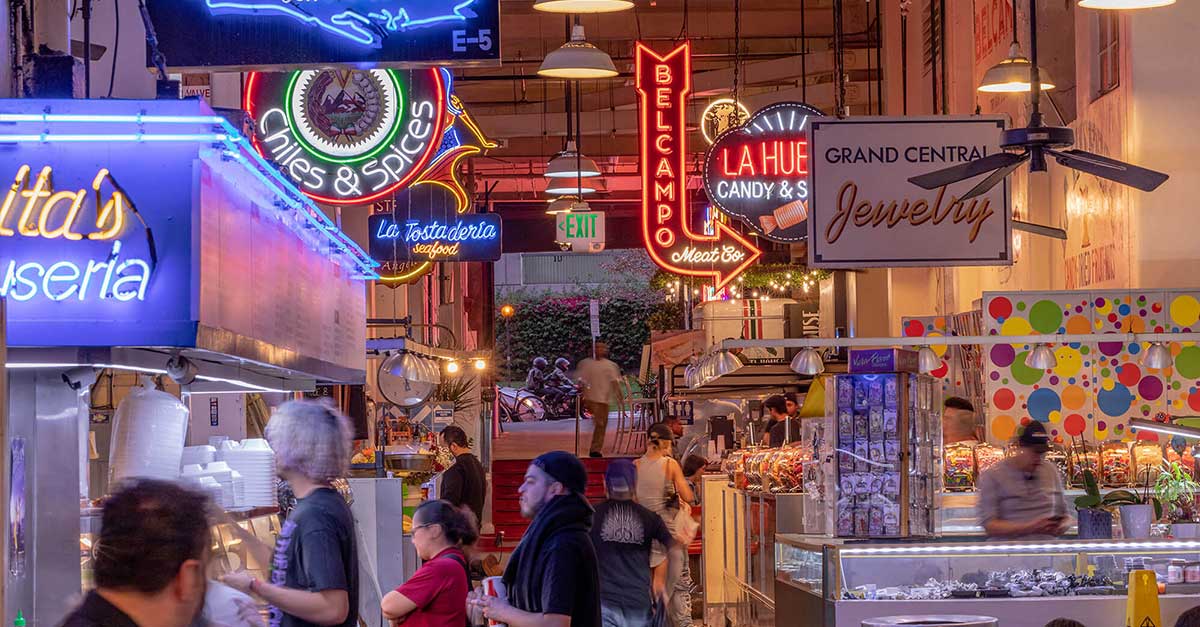 The Experience
Not able to make it to the market but still want to be part of the experience? Grand Central Market's website can help you out with that. They have an account with Chow Now, an online food ordering and delivery service that lets you order delivery or pickup from some of their most popular vendors like Ramen Hood, Bento Ya, and Donut Man. They also have an online store for merchandise like t-shirts, tote bags, and even a cookbook so you can try your hand at some of their classic dishes. Sure, it's not the same as trying the real thing, but look at it this way- if you mess it up, that's all the more reason to come to GCM and try it for yourself.  And if you do make it well, imagine how much better the authentic dish will taste when you visit Grand Central Market.
While You're At It
Silverlandia might not be as big a tourist destination as Grand Central Market but it has just as much charm and fascinating history behind it. Don't believe me? Take a look at this Silver Lake map to see some of the things that our incredible neighborhood has to offer. Follow us to stay up to date on all of the latest Silver Lake news and Silver Lake events.