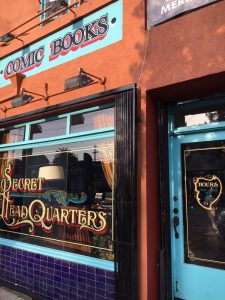 Comic books started as a niche to become a massive multi million industry. This hobby attracts people all sex and ages who still keep some kind of 'underground' spirit and a special appreciation for rare, hard to find places. That's probably what took the owners of Secret Headquarters to pick that name for their comic book store, located in Silverlake at 3817 W Sunset Blvd.
From popular DC and Marvel titles to local publications and European classics like Corto Maltes and Tintin, Secret Headquarters offers a wide variety at affordable price. They also have a good collection of new and classic mangas like Akira or Dragon Ball. We even found some of the newest issues of Heavy Metal, the underground cult classic that gained popularity in the late 70s and 80s. It's gratifying to be able to find newest issues of this classic, as not all comic stores in Los Angeles offer them.
So if you're looking for a comic store that goes beyond the flavor of the moment and offers more than the latest Japanese mangas, Secret Headquarters is a must go for you. Parking lot is scarce to none, but their variety and excellent customer service will make it worth. You will not leave with your hands empty!
The Secret Headquarters
3817 W Sunset Blvd
Los Angeles, CA 90026
Mon – Sat 11-9 / Sun 12-7
tel 323.666.2228
shq@thesecretheadquarters.com
http://thesecretheadquarters.com