Los Feliz – As we all know the Covid Pandemic hit us in places we could never imagine and we are slowly getting back to normal, although nothing seems like it is going to be the way it was.
The Griffith Park Senior Center is no exception to this rule. After the shutdown, in March 2020, many of the activities conducted at the center began to be carried out via zoom. Discussion groups, writing workshops, hula dancing and tai chi are only some of them.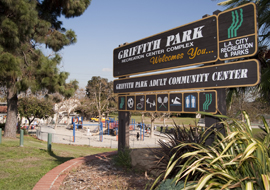 Able to Help 
Stephanie Vending, former President of the Griffith Park Senior Center, considers that 'older adults are more vulnerable to isolation than younger people. It is crucial to open the center again, because older adults are not like the young in getting into computers'.
A new director is supposed to start around mid July, a date in which the Center is expected to reopen gradually. During the closure, the former director retired.
A Fresh Start 
One of the volunteers from the Center was Mark Johnson, who managed to adapt his workshop to work online. Once presenciality goes back to business, he plans to run hybrid sessions, both in person and online. Of course he is only able to do this, as the workshop in which he works shows movies on Mondays and Tuesdays. 'Senior citizens need places to be able to congregate with their peers,' he said. 'To interact socially, keep learning and be involved in their community. COVID has been devastating to everyone. But we can't let seniors be left behind.'
More information can be found here.