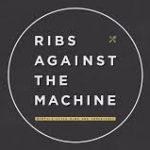 Not your typical Central Texas inspired BBQ. This is Memphis style BBQ, meaning meat cooked hot and fast over steaming charcoal with vinegar mop in between followed by a dry rub at the very end. Located behind Glendale Tap patio 4227 San Fernando Rd Glendale, CA 91204 Ribs Against the Machine is the best new BBQ spot.
So If you are expecting "fall off the bone" low & slow, that's not the pedigree here. These ribs are still tender and juicy but they will definitely have more chew than the usual standard slow-smoked meats. Can't go wrong with either the pork or the beef at this establishment but the beef ribs are simply divine.
Great food Better times, the best way to hang loose and enjoy the moment. Make sure to bring an appetite because you will be entering "Rib Paradise" waiting to devour every last bit. Ribs Against the Machine will have your mouth drooling for more, Ribs can't get better than this.
Follow them on Instagram for the most up-to-date info. Ribs Against the Machine
Always welcoming with great staff, good vibes playing so be sure to give Ribs Against the Machine a try and see what the new LA ribs hype is about. RAtM will only have you back for more!