It's no doubt that eating foods high in calories are not only tasty, but are more detrimental to your health. Why not eat well and not have to constantly worry about what you're putting into your body? Who doesn't love tasty food? Especially when it's healthy! Come take a look at SweetGreen's Restaurant here in Los Angeles, CA on Sunset Blvd. 
SweetGreen Menu
There are a variety of dishes to try from, ranging from warm bowls to salads to plates. Warm bowls include shroomami (vegan, 685 cal), chicken pesto parm (525 cal), fish taco (520 cal), harvest bowl (695 cal), and chicken tostada (595 cal). To bring some colors and imagination to you, ingredients in the fish tacos consist of roasted steelhead, shredded cabbage, cilantro, tortilla chips, warm quinoa, arugula, SweetGreen hot sauce, and lime cilantro jalapeno vinaigrette (great for spicy lovers!). The good thing? It's only 525 calories of pure tastiness!
Moving onto salads, and I know, some of you may be saying "eww salads," am I correct? Salads can be nasty but they also can be really good! If you're not a salad person, I think these salads may change your mind! These salads are packed in its richness of flavor, ranging from sweet to savory. SweetGreen's salad menu includes guacamole greens (545 cal), kale caesar (405 cal), spicy Thai salad (vegan, 460 cal), buffalo chicken bowl (445 cal), and veggie caesar (385 cal). To bring some imagination into to these salads, ingredients in the spicy Thai salad consist of roasted sesame tofu, raw corn, cucumbers, shredded cabbage, basil, cilantro, spicy sunflower seeds, arugula, chopped romaine, lime squeeze, and spicy cashew dressing. Sounds yummy, doesn't it?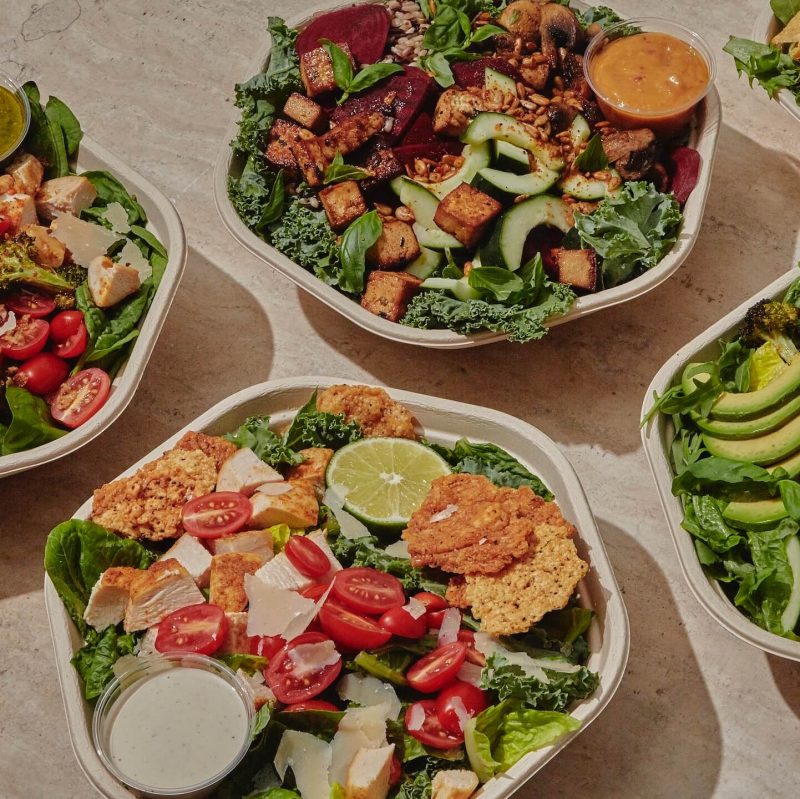 Healthy Food Options
Next up, we have plates for you. These plates are perfect for dinner time, considering that they are very filling and contain more calories than the bowls and salads. Their plates include their miso chicken and cauliflower rice (690 cal), hot honey chicken (670 cal), chicken chimichurri (660 cal), tofu steak and sweet potatoes (vegan, 640 cal), herby fish and rice (630 cal), and shroomy asada (vegan, 700 cal). Bringing you a new take to one of the plates, hot honey chicken, consists of whole chicken thigh, hot roasted sweet potatoes, warm quinoa, kale-cabbage slaw, roasted almonds, and hot honey mustard sauce. 
But hold on, these are not all of the items listed on their menu! There is a seasonal menu as well, tailored perfectly for each season. Their menu carries side dishes. as well as a make-your-own option, so you don't have to worry about making too many modifications to your order. 
Do you not feel like cooking today but want a delicious healthy meal? SweetGreen is the place to go! If you're wondering if they do delivery or take-out, yes they do and their phone number is (323) 688-5700. You can place an order online through multiple channels, such as Postmates, UberEats, GrubHub, Seamless, or directly from SweetGreen. Enjoy your delicious healthy meal safely at home. Make SweetGreen your go-to spot today!