Needle LA, Silver Lake's premier Cantonese restaurant, has been affected by COVID-19 and has made adjustments to how their business functions to ensure the safety of their customers. As of May 28th, they have limited the number of items being served on their menu. This includes the Duck Burger, Pork Chop Bun, Pork Chop Fried Rice, and the Tofu Fried Rice. Every order must be placed on the website and is available for contactless pick-up at the restaurant. However, it should be noted that the restaurant is taking precautions to ensure social distancing. They are doing so by limiting the number of pick-ups available every half hour. This way, you can safely enjoy one of the best spots for Cantonese food in Los Angeles.
Cantonese Food in Los Angeles: Flavors of Hong Kong
Chef Ryan Wong values presence when experiencing his food and he seems to carry that value through everything served at Needle. Many ingredients are found locally and the preparation taken is to the utmost detail and technique. Everything at Needle is based on traditional Hong Kong cuisine and especially with the pandemic we are currently experiencing, this is the absolute closest we can get to Cantonese food in Los Angeles.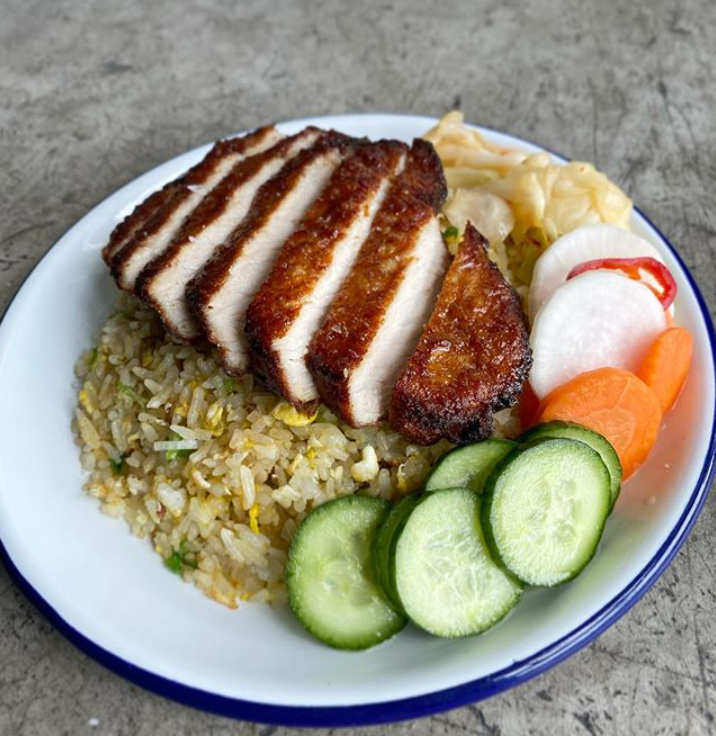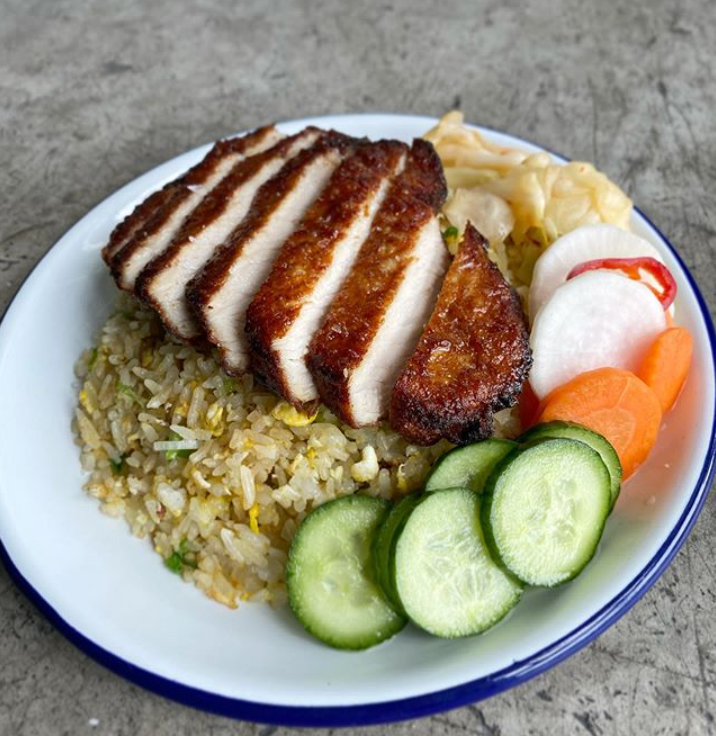 Featured Menu Items
Even though they currently limited the menu, we'd like to highlight some of the fan-favorite items from the original menu. We hope that Needle reincorporates these into their order pickup menu soon.
White Cut Chicken, a local free-range chicken dish including three classic sauces– ginger scallion sauce, garlic soy sauce, and hot sauce. Very similar to the popular Hainanese Chicken Rice, the chicken is served cold. Of course, it should be tried with each and every sauce provided.
Pea Shoots, a traditional Cantonese vegetable dish includes garlic, lily bulb, goji berry, and pea shoots all served in an herbal broth. It is flavorful, vegan, and allows you to get your serving of vegetables for the day.
Wood Ear Mushrooms, a dish with extreme textures, includes snow fungus in a sauce of chili oil, ginger, and scallions. If you love spicy food and enjoy mushrooms, this is the dish for you to try. Their chili oil is delectable. They even sell it separately in a jar for you to take home to add to any food you'd like. 
Char Siu, a classic Hong Kong favorite, is a delectable pork shoulder with a honey glaze and hot mustard dipping sauce on the side that replicates the flavor of dishes that can only be found in the streets of Hong Kong. With delicious marbling on the pork, superb flavor, and traditional preparation, the char siu is the absolute best in Los Angeles. 
Support Local Businesses
Needless to say, COVID-19 strongly impacted local businesses. It is now as important as ever to support businesses in our Silver Lake community. Needle LA is working hard to serve its customers with delicious food while maintaining safety precautions. Be sure to support this business serving Cantonese style food at a fair price. They are open Wednesday through Sunday from 3-8 pm, order at needlela.com. Eat at home and stay safe, Silver Lake.