Echo Park is one of the most culturally rich areas in Los Angeles. So many different people converge in this one neighborhood, so you never know what you'll find. This is particularly true when it comes to food. So, if you're looking for a great place to eat this week, there are plenty of well-reviewed Echo Park eateries for you to try.
Ostrich Farm
First on our list is Ostrich Farm, a four-out-of-five stars rated spot for New American cuisine brunch spot. Located at 1525 W Sunset Blvd, it's an intimate setting of only fifty seats. Husband and wife duo Jaime Turrey and Brooke Fruchtman run the local American grill. Most ingredients are locally sourced, and some of the produce is even grown on the restaurant's own garden! There is craft beer, wine, and handcrafted cocktails available. They have brunch hours throughout the entire week, so you can get your breakfast fixings any day.
Pollen at Echo Park
Another fantastic brunch location in Echo Park is Pollen, located at 2100 Echo Park Avenue. This is another New American cuisine locale with craft beer and wine available. One reviewer claims its an "extraordinary place with a great outdoor, woodsy feel. I loved the patio and natural sunlight that peeks into this corner neighborhood brunch spot. The fried egg sandwich was a 5/5 with perfectly crisped sourdough bread and layers of cheese and egg and avocado." If that doesn't sound like a quaint location and a delicious breakfast, what does?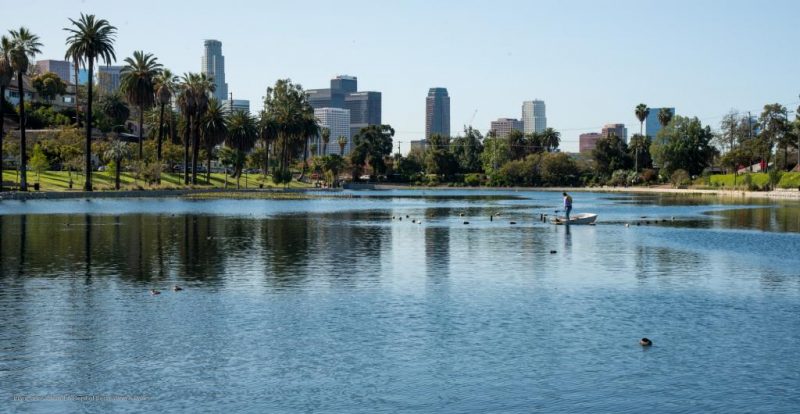 Tamales Albero 3
If you are not in the mood for brunch, and instead feel more of a spicy vibe, you can swing by Tamales Alberto 3. Located at 1630 Sunset Boulevard, you are sure to get a taste of authentic Mexican cuisine at this local hotspot. Reviewers claim is a welcome relief from the surrounding, pricier restaurants. Lucky for us, the '3' in the name refers to the number of locations. There are two on Sunset and another on Temple, so you can meet your Mexican cravings all across town.
Counterpart Deli
If you want a more low-key yet cute spot to grab a quick bite at, you should stop by the Counterpart Deli on 1559 Echo Park Avenue. It's a beautiful place with a gorgeous interior lit by an interesting light bulb and wire chandelier. It's the perfect spot for a quick cup of coffee and a muffin. The best part is that it's a great place for our Vegan friends out there who are looking for an ethic and eco-friendly bite to eat. Reviewers often describe it as a "very cool" place to eat; a "modern, friendly and, straightforward' establishment."
Echo Park Eateries and More
These Echo Park eateries, restaurants, and spots to grab a quick bite are just the beginning. This short list just scratches the surface of the vibrant food scene that's available. Don't be afraid to explore the culinary offerings of the neighborhood! You won't regret it.