Those in the Atwater Village community may already know of beloved Maria Flores's passing at the end of January. Her restaurant's Twitter feed announced in January 21st that Maria had passed away in her sleep. The post thanked all of the wonderful members of the community who had supported Maria across the many years of her cooking at Tacos Villa Corona.
In fact, you may remember famous traveling chef Anthony Bourdain's praise for the late cook's tacos. During one of his 2012 shows on the Travel Channel, he visited Flores's taco stand and ordered the chicken and steak tacos. "Family run, hole in the wall," he expressed, "all the marks of quality."
Maria, a Staple of Atwater Village
Flores and her family have been crafting Mexican-American dishes for over two decades at Tacos Corona. If you have never visited, it's a small take-out stand on Glendale Boulevard. You may know Glendale Boulevard for its many gastropubs, coffee shops, and hipster eateries. Yet Maria's spot stood the test of time while customers queued up for their morning burritos.
This is, sadly, not the first time we've received sad news regarding Maria Flores. Three years ago, Tacos Villa Corona shut down while the much-appreciated chef underwent surgery. However, she quickly returned to the grill alongside her daughter Felicia.
If you're worried that Maria passing means Tacos Villa Corona is closing, it's not. They're still up and running and providing delicious food to locals of all social strata. You might see some recognizable faces there, such as the famous Kristen Stewart of Twilight fame as well as the hilarious Michael Pena of the Ant-Man Marvel franchise. Whether you stop by to savor some delicious breakfast burritos or attempt to spot an A-Lister, you should be sure to share your condolences for a local woman who was a staple of the Atwater Village community.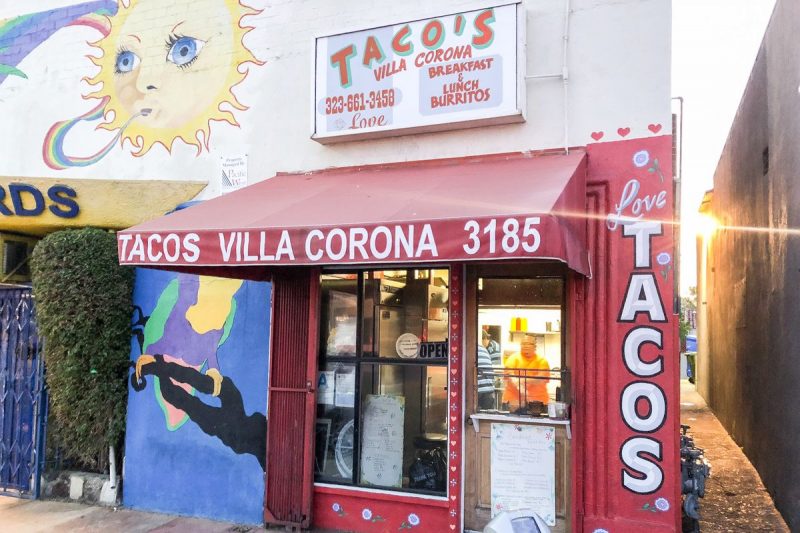 Visit Tacos Villa Corona
Located on 3185 Glendale Blvd, Tacos Villa Corona is open Tuesday through Sunday, from 8 am to 2 pm.  Keep in mind that this place is not a local secret and lines may be long. One Yelp reviewer recently stated, "there was such a long long long line today but it was so deliciously worth it. I had a giant breakfast burrito stuffed full of all the good stuff. The eggs were so soft and so yummy without any residual taste of grease or anything from off the griddle. The potatoes made the burrito complete and the sausage was just enough."
No matter the length in line, Tacos Villa Corona is always worth the wait. On a closing note: be sure to bring cash. Tacos Villa Corona is a cash-only establishment and you don't want to miss out on these burritos just because you left your change at home.