Now, Japanese food lovers can enjoy the real flavor of authentic ramen in Silver Lake; along with many other traditional dishes and even vegan options. 'Bangaichi' is the place that's been serving Asahikawa Ramen for over 50 years at the Yaesu underground shopping area in Tokyo, Japan. This restaurant is located right underneath the Tokyo station, one of the most populated terminal stations in the country. Asahi ramen has been officially certified as part of the cultural heritage of Hokkaido, a northern region of Japan known as 'Gourmet kingdom'. Now, people living in Los Angeles has the chance to savor authentic Hokkaido Style Ramen or dishes like large rice bowls, char siu pork and Bento Box, as well as many other options available in Ramen Bangaichi's Culver City and Silver Lake ramen menu. These locations also offer alternatives for people following the vegan lifestyle, being vegan ramen and vegan Gyoza some of their most popular choices.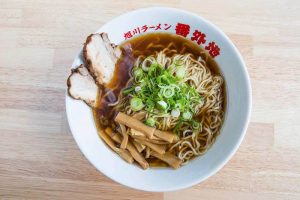 The Ramen Bangaichi in Silver Lake is located at 4339 Sunset Blvd, Los Angeles, CA 90029, and it's open Sunday to Wednesday from 11 AM to 11 PM and Thursday to Saturday from 11 AM to 3 AM. Valet parking is available at this location.
The address for Ramen Bangaichi Culver City is 9810 Washington Blvd., Culver City, CA 90232, and their schedule is Sunday to Thursday from 11 AM to 12 PM and Friday to Saturday from 11 AM to 1 AM. 
For reservations, or to make a press inquiry, call (323) 522-6578 (Silver Lake) or (424) 603-4341 (Culver City).