Ever heard of Spitz Mediterranean Street Food? Well, now you have! Spitz is a mouth-watering restaurant, especially for meat-lovers! Not to fear, they have some equally enticing vegetarian and vegan options available as well. 
Spitz Mediterranean Menu
Items on their menu range from wraps to bowls and salads to house favorites. Their protein options include lamb & beef, chicken, mixed meat, and falafel. Not only that, but with each wrap, bowl, and salad, you get to pick which protein you want in your meal. Spitz knows that kids eat too so there is a kids meal for those of you with kids. Ah! And dessert! Who doesn't love to finish off their meal with something deliciously sweet? Not only does it make an adult happy, but it makes the kids extremely happy.
The Spitz wraps available are street cart doner, Mediterranean doner, Berliner doner, and zesty feta doner. All of these wraps are unique in their taste, but they all come with their deliciously creamy tzatziki sauce. Of course, if you don't want that then you can always modify it to your liking. To bring you a gist of one of the wraps, the Mediterranean doner contains ingredients such as hummus, kalamata olives, feta, romaine, cabbage, tomato, onion, green pepper, cucumber, and tzatziki. Sounds delicious, doesn't it?
Spitz bowls and salads come with your choice of protein, or just veggies if you prefer it that way. They have five bowls, of which are the doner salad, the remix bowl, the medi bowl, the Berliner bowl, and the veggie stick garden bowl. Try all five of the bowls and you'll soon find out that it's difficult to narrow down your favorites! The doner salad contains romaine, cabbage, carrot, onion, green pepper, cucumber, olives, feta, pepperoncini, tomato, tzatziki, fried lavash chips, crispy garbanzo, fried pita, and a side of balsamic dressing or lemon-herb tahini dressing. That is a really yummy bowl right there!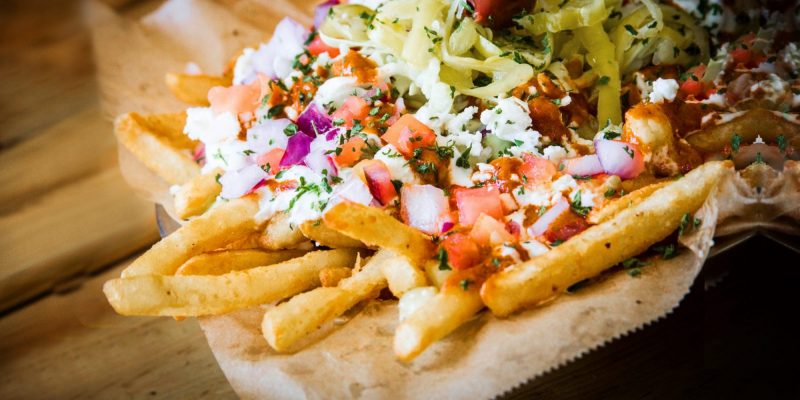 Ordering Mediterranean Food
House favorites would surely become one of your favorites. It's been captured all over social media how delicious they look. House favorites include street cart fries, Berliner fries, doquitos, and the doner basket. The fries come with their own special ingredients and the doquitos are basically a Mediterranean taquito with a twist of ingredients such as lavash bread rolled with zesty feta, onion, aioli, fried to perfection, smothered with feta, aioli, onion, pepperoncini, green pepper, tomato, and olives.
Spitz has sides of regular fries, sweet potato fries, greek salad, quinoa side salad, crispy garbanzos and olives, veggies and dip, and fried pita strips with hummus. How awesome is that? Fried pita strips with hummus! I'd love to get one of those for my sides. 
Let's talk about their desserts. They are AMAZING! Spitz dessert menu carries two items and they are unicorn baklava nut rolls which contain rolled flaky filo dough, walnuts, almonds, honey, and drizzled with chocolate, and cinnamon sugar pita strips which is a lightly fried pita tossed in cinnamon and sugar served with chocolate sauce and funfetti frosting. 
If this article didn't prompt you to go try them out, maybe their Instagram photos will! You can order from Spitz Mediterranean Restaurant through pickup, delivery, or curbside at (323) 522-3309.