Located on the Sunset strip, Tiki-Ti tropical drink bar in Silver Lake is undoubtedly a GEM that you could easily miss if you're driving too fast. At Tiki-Ti, you'll find a variety of strong tropical cocktails that are sure to have you stumbling back for more. This local landmark was first opened up by the legend, Ray Buhen on April 28 back in 1961 and has been thriving ever since. This cozy little bar, filled with old trinkets, cluttered mugs, and tropical-inspired objects is usually very busy, due to its amazing drink menu which contains over 90 drinks that are mostly rum-based. If you enjoy a friendly and fun atmosphere and a fantastic tropical cocktail, don't think twice! You'll love it right here!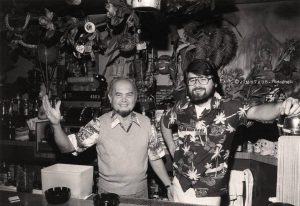 What we love most about this Sunset goldmine (besides the great drinks and the decor) are the special bartenders that keep the magic alive. Michael and his son, Mike, along with their new bartender Greg, carry the Tiki-Ti tradition that Mr. Buhen left behind almost 80 years ago.
Every Wednesday night, at 9 pm everyone raises a drink (usually a "Rays Mistake" which was accidentally created due to a classic mixup of syrups, and is one of the strongest and tastiest mistakes you'll ever encounter) in remembrance to their master mixologist and founder, Ray.
Don't hesitate to drop by one of the best Tiki cocktails bars in Silverlandia.

Tiki Ti
4427 Sunset Blvd
Los Angeles, CA 90027
(323) 669-9382