When visiting the Silver Lake neighborhood, the embodiment of a bohemian and artistic Los Angeles, one cannot get the full experience until they try a mouth-watering bowl of ramen noodles at Silver Lake Ramen. First, two Japanese chefs cook the noodles. They dream of sharing their culture through delicious qualities and traditional ingredients. Made with passion and authenticity, Silver Lake Ramen's noodles will guarantee you a one-way ticket to experience the divine taste of Japanese culture from miles away.
Silver Lake Ramen's Secret 
The ultimate secret to a bowl of flavorful ramen is the experiment of flavors. The five flavors shrine, which includes sweetness, savory, bitterness, sourness, and umami, is elevated in each ingredient of the bowl. First, they stretch and knead the ramen dough by hand with care and tenderness. The chefs always make sure that the noodles are cooked to perfection so that you can enjoy their chewy and starchy texture that goes perfectly with the delicious broth.
Next, the richness of the pork bone is captured in the broth after being boiled for more than eight hours. This creates a cloudy and milky appearance to the bowl to resemble the fuzziness of a dream-like experience of deliciousness. Lastly, the accompanying add-ons of hard-boiled eggs, pork belly, ginger, seaweed, and more blend all the ingredients together. All of these authentic ingredients and skills make an unforgettable bowl of ramen at Silver Lake Ramen.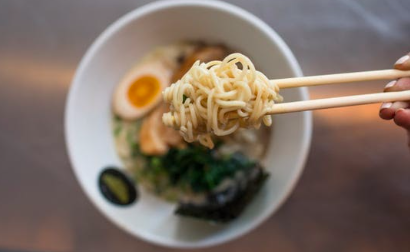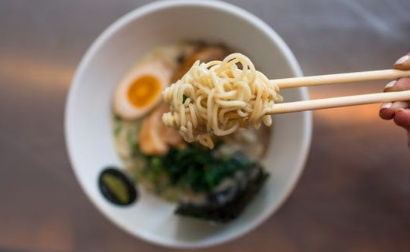 Silver Lake Ramen's Endless Options
Not just well-known for their titular dish, however, Silver Lake Ramen has a range of tasteful appetizers that elevate their ramen bowls even more. These dishes can either be light or acidic to cut through the richness of the ramen and bring you a well-balanced palate. One of the most popular appetizers at Silver Lake Ramen is the delightful seaweed salad. The healthy ingredients of baby greens, kale, spring mix, cabbage, corn, and seaweed ensure a refreshing taste of nature. Take one bite and you can envision yourself taking a walk around a lavish and luscious garden. It is that fresh! 
Look to your right and you can find yourself another appetizing starter: pork buns. Silver Lake Ramen marinates the pork belly with diverse garnishes such as pickled and green onions. Together, these flavors add culture to the meat and give you an introduction to the intricate details of Japan. Do yourself a favor and give these buns a try!
Bringing Delicious Ramen To Your Home 
Amidst today's quarantine lifestyle, Silver Lake offers you three options to find their ramen noodles: Dine-in, pick-up, and delivery. You can order directly on the website or buy through UberEats and Postmates. If you live far from Silver Lake, worry not! Silver Lake Ramen is all around Los Angeles, such as on Sunset, DTLA, and Koreatown. They are donating a majority of the proceeds to local Los Angeles medical facilities and front-liners. Support your local community today!